Festival Capoeira Malungada Paris
2017-12-14 til 2017-09-16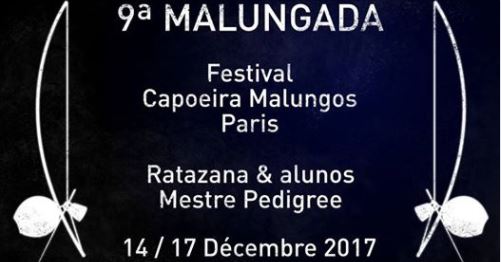 Festival Capoeira Malungada i Paris
– Professor Ratazana & Alunos Mestre Pedigree

Paris and France in general is one of the really good places to visit if you are looking to see and experience capoeira at a very high level in Europe. Therefore we in Grupo Capoeira Malungos Denmark are happy to invite you and your friends, on behalf of Professor Ratazana, to Paris for a long weekend of pure nice capoeira, parties and good vibes.
You are guaranteed this:
Capoeira classes for all levels – begginners – intermediary – advanced
Participation of a varity of Mestres, Contra Mestres and Professores who will all bring and contribute to an amazing capoeira experience
Brazilian parties with dance, music and live performances
Free accomodation – you stay with students og Professor Ratazana. Book Now and you will be guaranteed a good place to stay
A unique capoeira event with good people from around the world all together to have a good time
A chane to meet and socialize with fellow capoeiristas in Malungos and other capoeira groups visiting the event
Á bientôt à Paris en decembre!